Warren Gatland asked all travelling Welsh supporters heading for the smouldering euro-rubble that used to be Dublin if they wouldn't mind packing their Wales shorts, socks and boots as well as their 2XL shirts.
Gatland issued the desperate plea as he compared the Welsh training camp to a scene from Platoon. At the rate players were dropping out, the beleaguered coach calculated that he would be through the entire squad, the under 20s, the regional players, the entirety of Welsh-qualified club players, promising school kids and Steve Shingler by 9.30 on Saturday night. Meaning that Gatland was looking solemnly at the travelling army of pie-chomping amateur lager drinkers and their harem of shrieking glittery cow-girls, lurking at the bottom of the barrel. "Four sucks fake", said Gatland, or something similar.
Far from being downhearted at this turn of events, a significant number of fans were in exuberant mood at the prospect of earning their first cap. "I'd prefer it to be in Cardiff, natch", said Lee 'Burger King' Jones of Tredegar. "At 39 I'd started to think the chance might have gone, but I knew if I just hung around stadiums long enough with my kit underneath my pulling clothes, the door was always open. I'm putting my hand up big time, and in all fairness, I slept in a hedge last Saturday on the way home from the curry house. In these temperatures that's got to be on a par with anything the boys did in Poland".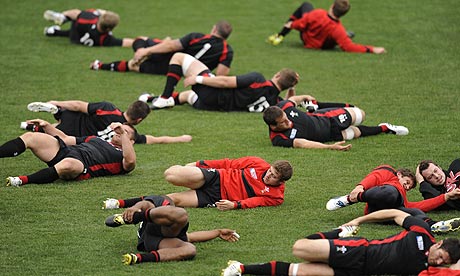 Kate Roberts, 27 of Port Talbot was similarly undaunted: "My Grandkids say I'm the easiest-going girl around, but if you chuck four Smirnoff ices down me on an empty stomach and a sight of Ronan O'Gara I go 'Nagasaki' big-style. Stick me at 7 and I'll have him on toast."
Others like 54 year old builder 'Tubs' Parry of Llanishen, were a little more realistic. "This time of year my arthritis means I take a while to get going, but if it's holding up a scrum against Cian Healy that's wanted, I reckon I can give them 60 minutes tops."